Questions & Answers
If you have any questions concerning our products, ingredients or any other subject, please do not hesitate to send us an email with your question to info@xellence-skincare.com. Selected questions will be published with answer.
Ingrediens GlossaryQuestions & Answers
Does XELLENCE's products contain any perfume/artificial fragrance?
No, there is no perfume/fragrance in any of our products.
Is there artificial colours in XELLENCE's products?
No, there is not added any colour to our products.
Does XELLENCE's products contain mineral oils/petrochemicals?
No, we produce our products without the use of any types of mineral oils or petrochemicals.
We have chosen to base our products on natural oils such as almond oil and macadamia oil, because these are easily absorbed into the skin, and are rich in natural vitamins, minerals and essential sebacic acids.
Is there parabens or artificial preservatives in XELLENCE's products?
No, there are no parabens or artificial preservatives in our products.
To preserve our products, we use ingredients with anti-bacterial and anti-oxidant effects that naturally preserve our products. Even though we use naturally preserving ingredients, we still guarantee a PAO (Period after Opening) of 12 months.
Is there endocrine disruptors in XELLENCE products?
No, there is not. According to Danish legislation, all cosmetic products must be safe to use. In Denmark, 'Kosmetikbekendtgørelsen' sets very high requirements to safety assessment and the allowed amount of various ingredients in the products. Naturally, we comply with all regulatory requirements.
Who can use XELLENCE products?
XELLENCE products are suitable for everyone regardless of age and gender.
What is the NATRUE label?
The "NATRUE label" is your guarantee that our products are organic and natural.
XELLENCE's "Organic Sweet Almond Oil", "Organic Argan Oil" and "Organic Apricot Kernel Oil" are all NATRUE certified. A warranty for a 100% natural product cultivated and produced according to organic guidelines.
Read more about NATRUE here.
Are XELLENCE's products safe for people with skin allergies?
Yes, all XELLENCE's products are free from artificial fragrance/perfume.
Is XELLENCE organic oils suitable for facial care? 
Yes, however do not apply too close to the eye area as that might cause irritation.
What does the open jar symbol mean?
The 'open jar symbol' on the back of the product indicates the PAO (Period after Opening).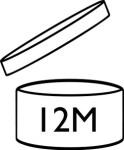 The symbol shows an open cream-container with e.g. the number '12' and the letter 'M'. Together these indicate the number of months that you may use the product after opening it.
How do I ensure optimal effect and durability of my products?
Always read the instructions/information leaflet
Make sure to seal the product after using it.
Use the product before the end of PAO (Period after Opening)
We recommend storing XELLENCE products in a dry and preferably in a chilled place in original packaging.
Avoid storing your products in direct sunlight or near heat sources.
Avoid mix XELLENCE's products with other products (unless stated in Information Leaflet or on our Website)
Apply cosmetics with clean hands or using an applicator to avoid exposing your products for bacteria.
Regularly wash applicators thoroughly with soap or mild shampoo. Leave applicators to dry completely before using them again.
Avoid sharing your personal products with others.
Can I safely use XELLENCE products if I am pregnant/ or planning to get pregnant/breast-feeding?
Yes, you can. XELLENCE products all natural, therefore you can our products without any concerns. In fact, most of our products are suitable for babies and sensitive skin in general.
Certain products, such as the "SOS Power Cream", we recommend the skin area washed, if product has just been used before breast feeding. Only due to the taste that the infant may experience.
Have XELLENCE's products gone through safety assessment?
All XELLENCE's products comply with the extensive Danish legislation that regulates the allowed ingredients in cosmetic products, and in the quantities that are safe.
An independent External Quality Assurance Institute handles the quality assurance of each of our products. When they assess one of our products, the individual ingredients is 1) evaluated to be safe, and 2) evaluated in relation to how they can potentially react with other ingredients in the formulation.
Furthermore, our Product Developer and CEO behind Xellence Flora Nasab has a background as a Quality Assurance Consultant, and she personally set high standards for XELLENCE products.